Zmodo Surveillance DVR-H9108V::
The latest DVR-H9108V from Zmodo surveillance is a 8 channel hardware based digital video recorder which can be used for easy securing of homes or small retails stores etc.
The Zmodo Surveillance DVR-H9108V uses Linux Operating System as its base and comes with a remote control for easy viewing. Some of the features include: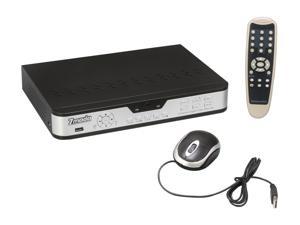 a) Easy network access and supports remote viewing any where, any time by using remote access via computer or 3G based smart phones (such as iPhone, Android OS, Blackberry OS, Symbian OS and Windows Mobile Pro 5.0 & 6.1 OS). For this, you can download an app called 'aplayer' which works better than the ip cam viewer app. The advantage of an aplayer is it you will be able to use PTZ controls unlike ip cam view that doesnt support PTZ controls.
b) The H.264 compression technology gives you amazing video quality at lesser data rates. Delivering MPEG4 standard videos, the Zmodo Surveillance DVR-H9108V helps you save more videos by compressing them using H.264 thus saving you 2 time more space capacity.
c) The 8 channel DVR gives you split screens with eight video footages at a single screen to enable easy viewing rather than flipping to single camera mode.
d) Different types of video recording modes are available such as timed recording, motion activated recording, continuous recording.
e) The in built USB helps you to connect to your pc for taking back up of certain footages.
f) The Zmodo Surveillance DVR-H9108V has a humongous storage capacity and can support upto 1 TB Serial ATA hard drive (SATA HDD).
The Zmodo Surveillance DVR-H9108V is 11.8" in length, 8.2" in breadth and 1.6" in height. Zmodo gives you two years warranty on the its parts and labor.
We have generally received positive reviews on this product due to its easy to install features and the big hearted hard drive. The menus and quite detailed and displays simultaneous view of all the cameras installed. The biggest disadvantage would be the Zmodo Surveillance DVR-H9108V does not come with a cooling fan which leads to overheating of the product when used over time. The company does not even provide screws for fixing the DVR nor any rubber gaskets for the hard drive.